Models 6252, 6253 and 6254 Heavy duty construction of high quality cast iron with bronze or stainless steel semi-nozzle trim. Bolted bonnet design for easy maintenance. Seats lapped to optical flatness. Dual control rings offer easy adjustability for precision opening with minimum pre-open or simmer and exact blowdown control. Heavy duty lift lever assembly.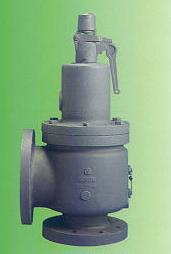 Specifications:
Sizes Pressure/Temperature Limits:
1 1/2 thru 6 inch (40 thru 150 mm) 250 psig (17.2 barg)/406 degrees F
(208 degrees C)
Applications:
Steam boilers and generators.
Pressure reducing stations.
Air/gas compressors - reciprocating or rotary.
Pressure Vessels - including tanks, receivers, intercoolers, oil-gas separators, lines.