.

.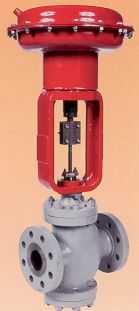 1. Top & Bottom Stem Guiding: The valve plug is supported and rigidly guided by upper and lower guide bushings. This two-point guiding provides for exceptional stability and minimal valve plug deflection even under high pressure drop conditions, and allows for precise control and characterization of fluid.

2. High Capacity Body Designs:

The body configuration incorporates large flow areas which maximize the flow capacity of each size. This enlarged flow area maintains acceptable fluid velocities in the valve body, which increases trim life and provides for quieter operation.

3. Balanced Double Port Design:

Since inlet pressure exerts force on the upper and lower plugs, the forces are balanced. This balancing effect reduces the net thrust of the actuator, allowing for smaller actuators to be used in higher pressure drop applications. The result is a lower overall installation cost and dimensional envelope.

4. Plug Throttling Design

: Plug characterization, stem guiding, and balancing effect give this design the combination best suited for handling dirty, sticky, and erosive applications in refinery plants where cage guided valves have consistently failed.

5. Field Reversible Trim

: EQ% V-Port EQ%, Linear and Quick Opening Contoured plugs are easily reversed in the field so that either a fail open or closed action can be obtained using the same actuator. This reduces the need for parts inventory, and adds flexibility.

6. Sizes and End Connections

: The GTB valve is available in sizes 1" through 16" (25-400 mm). End connections include raised face, ring type joint flanges and threaded ends.

7. Bonnet Options

: Bonnet options include the standard bolted configuration and extension bonnet for temperatures below 32'F (O'C) and above 450'F (232'C). The standard and extension bonnets are available with lubricator and oversized construction.

8. Packing

: TeflonO Chevron/Braided TeflonO Graphite (TC/BTG) Split rings allow packing replacement without removal of actuator. Graphite impregnated PTFE provides 500'F (260'C) service temperature, lowered stem hysteresis, better "memory" and sealing than pure teflon rings, and is ideal for fluids that contain suspended solids.