•Compact rack and pinion or scotch yoke design utilizes total piston area to develop output torque

•Simple piston with integral rack drive reduces number of dynamic seals to minimize air leakage potential

•Hard anodized epoxy-coated aluminum body protects against corrosion

•Scotch yoke design (in larger sizes) provides higher torque outputs

•Encapsulated springs simplify assembly and ensure safety and reliability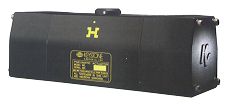 Supply pressure: 40 - 125 psig

Output torque:

Double acting to 32,000 lb. in. Spring end to 12,100 lb. in.